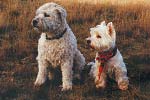 We are very happy that our technology has real impact on peoples lives. In this case the Livestream of the "Zuckerhunde"-Community was helpful twice to dog owners who's dogs are diabetic.
Birte Oldenburg, the founder of the community, explaines in an article on pr-blogger.de (in German) why it is so useful that every visitor of her website has direct access to the chat in the Livecommunity. This enables the visitors to see who is online and gives the possibility to communicate instantly with each other.
And in the case of the two dogs this was the right advice to the right time.